We support clients with individual components, collaboration on larger projects, or complete turnkey development. We can provide hardware design for software groups or software design for hardware groups. Designs usually begin with modeling a device or attachment as shown below.
Quality tools make a difference. We routinely use the following development platforms in our design work ( © by their respective owners):
Fusion360© – An integrated Autodesk product that includes 3-D CAD, CAM, Simulation, 2-D drawings with BOMs.
Eagle PCB© – A flexible circuit design product with schematic capture and advanced printed circuit layout features.
PyCharm© – A Python integrated development environment (IDE) for software development.
GitHub© – For software version control and distribution
Adobe Suite© – For graphic design, illustrations, photo editing, and documentation.
Productivity Suite 2000© – PLC design software for Automation Direct PLC systems.
Prototyping is often appropriate in the early design phase to identify problems and verify assumptions. The circuit board below is one of our quick prototypes to provide multiple-interface functions to a robotic controller. It provides a highly accurate real-time clock, and non-volatile memory for system configuration and logging.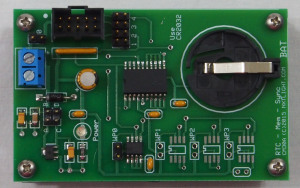 Typical System Structure
Robotics (and related systems) generally consist of three subsystems:
Sensors – identify the current system state, trace activity, signal error conditions, and confirm the final result of operations.
Actuators – are components that move within a designated range and often include motors, hydraulics, or other energy sources.
Controls – include electronics and software to interface with sensors and actuators, as well as providing human and computer control and feedback.
All three subsystems may contain dedicated processors and software or they may operate mechanically. System requirements, budget, and numerous other factors will apply to the allocation of computing power across a system.
Please contact us for more information.